Meet The Doctors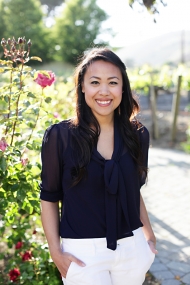 Trang K Tran, DDS
Dr. Tran graduated from the University of California, San Francisco School of Dentistry. She earned honors in Patient Centered Care and multiple letters of commendation from her faculty for various courses. Dr. Tran gained invaluable experience working as a private practitioner in Las Vegas, Nevada as well as helping out at the local community clinic here in Santa Cruz. She believes strongly in continuing her education and has taken courses in many fields, including esthetic dentistry and root canal therapy. Throughout her career she has been an active member of several professional organizations, including the American Dental Association, California Dental Association, the National Association for Professional Women, as well as her local dental societies.
Dr. Tran has strong ties to the Santa Cruz community. Prior to becoming a dentist, she received a Bachelor's of Science degree in biology from the University of California, Santa Cruz. One of the many reasons she chose to become a dentist is that it is the perfect balance between science and art. She also truly enjoys being able to build strong, long-lasting relationships with her patients. When she is not practicing, she enjoys traveling and photography...but most of all, she loves being a mom to two wonderfully energetic boys!
Scott J Weston, DDS
Dr. Weston graduated from the University of California, San Francisco School of Dentistry, earning the Francis A. Sooy Award for Outstanding Dental Professional. He was also granted awards for clinical achievement in restorative dentistry. Dr. Weston received advanced training in IV sedation for the anxious and apprehensive patient, implant dentistry, and hospital dentistry during a General Practice Residency program at the University of Nevada, Las Vegas School of Medicine. He also held an appointment at the Southern Nevada Veterans Administration (VA) treating geriatric and medically compromised patients. Dr. Weston believes in the importance of continuing education and has taken many courses in such varied fields as cosmetic dentistry, dental implants, sedation dentistry, removable prosthetics, and oral and maxillofacial pathology.
Prior to his career in dentistry, Dr. Weston received a Bachelor's of Arts degree in biology from Carleton Collge in Northfield, Minnesota and then spent several years conducting Hepatitis C research in an immunology laboratory in Portland, Oregon. When Dr. Weston is not practicing, he enjoys spending time with his family, sailing, camping, and traveling.